Sbiten
back to article Gastronomic tours in Belarus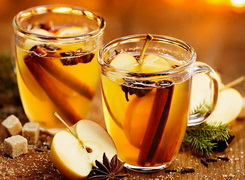 Sbiten (zbiten) is a Belarusian national drink, which usually includes honey, water, herbs, pepper, cloves, nutmeg, and can also have birch leaves, sweet flag.

The first mention of this drink in the annals dates back to 1128. And the first more detailed recipe was described in a literary self-teacher of the 16th century.

Sbiten was popular in Belarus in the 18-19th centuries. In folk medicine, it was used as an antiscorbutic agent.

Zbiten can be both alcoholic and non-alcoholic.

You can taste the dishes of the national Belarusian cuisine during one of the excursions organized by «Automated tourism technologies» travel company, joining a group excursion or ordering an individual excursion for your family, friends, colleagues.