Moonshine
back to article Gastronomic tours in Belarus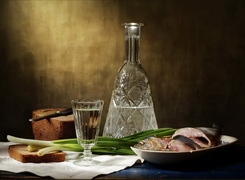 Moonshine is a traditional Belarusian alcoholic beverage, which is usually made from potatoes or beets. It is produced mainly in the villages.

Belarusian moonshine is considered to be the best in quality and taste properties among famous vodka brands «Finland» or «Smirnoff».

In our country, the center of brewing is the city of Starye Dorogi in Minsk region. The places where you can officially taste Belarusian moonshine are музейный «Dudutki» museum complex, «Belovezhskaya Pushcha» national park, «Dukorskiy Mayontak» farmstead-park complex, «Korobchitsy» agrotourist complex, «Sula» park-museum.

You can taste the dishes of the national Belarusian cuisine during one of the excursions organized by «Automated tourism technologies» travel company, joining a group excursion or ordering an individual excursion for your family, friends, colleagues.