Lida kvass
back to article Gastronomic tours in Belarus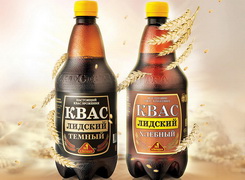 Lida kvass is a Belarusian brand, a drink produced by the Lida Beer factory. The enterprise produces 2 kinds of kvass: bread and dark.

In general, kvass is a traditional Slavic and Baltic fermented beverage commonly made from rye bread, known in many Eastern European countries and especially in Russia as black bread. Kvass can be made of herbs, honey, beets, fruits, berries, etc.

The first mention of Lida kvass is found in the documents of 1920. In Soviet times, kvass was a very popular drink - a yellow barrel on a trailer with the inscription «Kvass» is known to all Belarusians. In 2006, the Lida Brewery made a kind of technological revolution - the first one among the Belarusian enterprises began to produce kvass in bottles.

You can taste the dishes of the national Belarusian cuisine during one of the excursions organized by «Automated tourism technologies» travel company, joining a group excursion or ordering an individual excursion for your family, friends, colleagues.