Kolduny
back to article Gastronomic tours in Belarus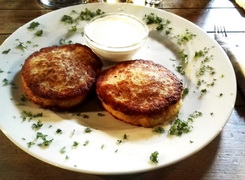 Kolduny (kalduny) is a traditional dish of Belarusian cuisine. There are two varieties of kolduny: flour and potato.

Flour kolduny – small or medium-sized dumplings, which are cooked on the water, usually adding eggs, vegetable oil, and sometimes soda. The dough should be soft, elastic and well stretched.

Potato kolduny – a dish reminiscent of draniki. They are filled with meat (pork). A distinctive feature of potato kolduny is that an odd liquid is removed from the finely grinded potato, so that the potato becomes compact and retains its shape well. Formed kolduny are fried and served usually with sour cream.

You can taste the dishes of the national Belarusian cuisine during one of the excursions organized by «Automated tourism technologies» travel company, joining a group excursion or ordering an individual excursion for your family, friends, colleagues.