Potato Pyzy
back to article Gastronomic tours in Belarus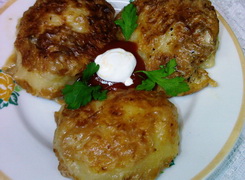 Potato pyzy – a national Belarusian dish, a variety of zrazy, combining a potato cover and meat filling. In other words, pyzy is potato dumplings with minced meat.

Pyzy is served to the table with sour cream and greenery.

For its preparation, potatoes, minced meat, cottage cheese, flour, starch, onions, eggs, salt, etc. can be used as ingredients.

You can taste the dishes of the national Belarusian cuisine during one of the excursions organized by «Automated tourism technologies» travel company, joining a group excursion or ordering an individual excursion for your family, friends, colleagues.